Founders' Classroom Course
UTKARSH: A Residential Classroom program for Top Rankers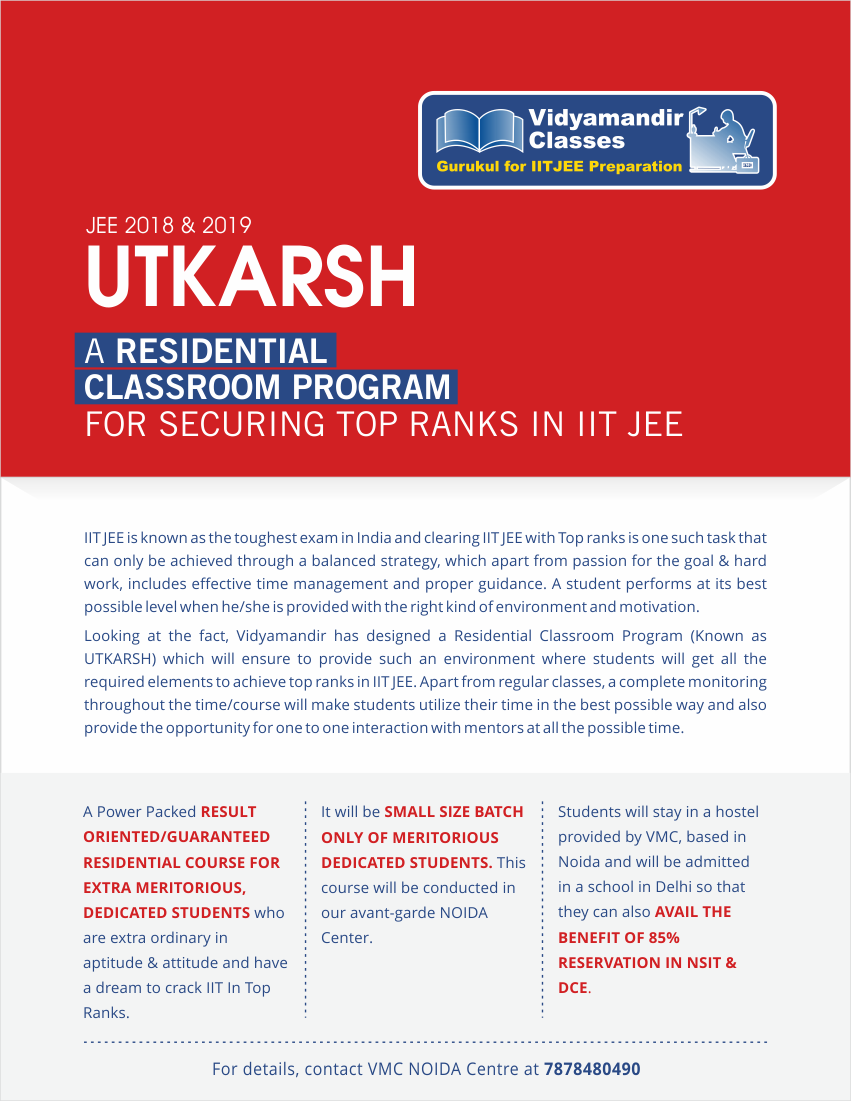 | | |
| --- | --- |
| Duration | April 2017 to March 2019 |
| Eligibility | Students presently in Class X |
| Locations | Noida |
| Fee | 2,20,000/- (plus taxes) |
| Admission Criterion | Admissions to this program are made through Vidyamandir's National Admission tests. |
Two years of arduous preparation boils down to doing well on that all important day of the IITJEE exam. The very nature of this exam instils a lot of pressure in students and hence it is very important to build the right examination hall temperament so that students can tackle pressure, surprises and create dynamic exam-management strategies quickly. Hence testing, assessment and frequent mock examinations form the core of VMC's pedagogy.
Class Tests are conducted regularly in the class to assess the understanding of the topics by the students. Many of these would be in the form of Surprise Quizzes, so that students are forced to be regular in their preparation.
The Test Series, held at regular intervals, simulate the pattern and timing of the actual IITJEE and are held at multiple Test Centres providing a real Exam-like experience to the students. These are national level tests taken by our students across India and the ranks achieved in these test are good indicators of what ranks can be expected in the IITJEE.
Students are given extensive practice on all possible question formats. These include MCQs, assertion-reasoning, comprehension based, match the column and other innovative question formats.
The most important aspect of testing process is through analysis of performance and benchmarking with the best performers. VMC's Analytics and Reporting engine provides very high level of analytics, benchmarking reports and even diagnostics after each test. It gives a snap-shot of the strength and weakness in the various subjects and topics, over a period of time. Moreover, personalized and advanced reports like Test Analysis Reports help a student evaluate the various factors which impact his/her performance. They help the students to know where they stand and the mistakes they have made as compared to other students of the same level.
Below is a small preview of the various reports, benchmarking and analysis our VMC Students get.
Sharpen your preparation for JEE Advanced, JEE Main & other Engg entrance exams with VMC's scientifically designed Two year Premium Correspondence Course.

Course includes
Video lectures, Study material, Test Series, Result Analysis & Ranking, App based learning and much more
Read more
Buy Online
Sharpen your preparation for JEE Advanced, JEE Main & other Engg entrance exams with VMC's Two year Regular Correspondence Course.

Course includes
Study material, Test Series, Result Analysis & Ranking, App based learning and much more
Read more
Buy Online
Sharpen your preparation for JEE Advanced, JEE Main & other Engg entrance exams with VMC's scientifically designed One year Premium Correspondence Course.

Course includes
Video lectures, Study material, Test Series, Result Analysis & Ranking, App based learning and much more
Read more
Buy Online
Sharpen your preparation for JEE Advanced, JEE Main & other Engg entrance exams with VMC's One year Regular Correspondence Course.

Course includes
Study material, Test Series, Result Analysis & Ranking, App based learning and much more
Read more
Buy Online
Sharpen your preparation for JEE Advanced, JEE Main & other Engg entrance exams with VMC's scientifically designed One year Premium Correspondence Course.

Course includes
Video lectures, Study material, Test Series, Result Analysis & Ranking, App based learning and much more
Read more
Buy Online
Sharpen your preparation for JEE Advanced, JEE Main & other Engg entrance exams with VMC's One year Regular Correspondence Course.

Course includes
Study material, Test Series, Result Analysis & Ranking, App based learning and much more
Read more
Buy Online
Tune up your preparation for JEE Advanced, JEE Main & other Engg entrance exams with VMC's Two year All India Test series for JEE 2019.

Course includes
Get all the tests taken by VMC students and compare your performance with thousands of brightest minds in the country. Detailed reports, Result analysis & All India Ranking, and much more
Read more
Buy Online
Tune up your preparation for JEE Advanced, JEE Main & other Engg entrance exams with VMC's One year All India Test series for JEE 2018.

Course includes
Get all the tests taken by VMC students and compare your performance with thousands of brightest minds in the country. Detailed reports, Result analysis & All India Ranking, and much more
Read more
Buy Online